Disneyland Paris: Our Full Review and Best Tips!
My husband and I love all things Disney, and we've visited Walt Disney World and Disneyland more times than I can count. (I tried to add up our visits, but quickly gave up!) Because we have family living on both coasts of the United States, we frequently add on a trip to Disney when visiting relatives. We even ran the infamous Dopey Challenge, which consisted of 4 races that totaled up to 48.6 miles through Walt Disney World. (You can read all about our race experience here!) When we had the chance to visit France this year, we quickly added Disneyland Paris to our itinerary. We were curious how much our Disney parks knowledge would translate to the Paris park. It turns out that we had a lot to learn! In this article, we're sharing our best tips for visiting Disneyland Paris, so that you can make the most of your own magical vacation!
Disneyland Paris
Disneyland Paris consists of two theme parks (Disneyland Park and Walt Disney Studios), Disney Village, and the on-site Disney hotels.
Disneyland Park (What we Refer to as Disneyland Paris)
For the rest of this article, we'll refer to Disneyland Park as Disneyland Paris, in order to easily differentiate it from Disneyland in California.
When you walk into Disneyland Paris, you'll get to explore the following lands:
Main Street, USA
Frontierland
Adventureland
Fantasyland
Discoveryland
Walt Disney Studios
Walt Disney Studios consists of the following components:
Front Lot
Toon Studio
Worlds of Pixar
Production Courtyard
Marvel Avengers Campus
About Disneyland Paris
We recommend making time to visit both theme parks. We also recommend staying at one of the Disney hotels. It's so convenient to be able to walk or take the shuttle to the park entrances each day.
Disneyland Paris was built in 1992, and it recently celebrated its 30th anniversary. (We were there for the anniversary celebration!) When it first opened, Disneyland Paris was named Euro Disney, but they changed the name because it wasn't too appealing for Europeans.
Nearly 10 million people visited Disneyland Paris in 2019, which is more than any other attraction in France (including the Eiffel Tower, Louvre, or Palace of Versailles). With that many people visiting Disneyland Paris, it's important to make your reservations and have a solid game plan!
Disney Movies Set in Paris
One thing we really liked about visiting Disneyland Paris is the fact that so many Disney movies are set in Paris! These include:
Ratatouille (2007)
The Hunchback of Notre Dame (1996)
Beauty and the Beast (1991)
The Aristocats (1970)
Sleeping Beauty (1959)
Cinderella (1950)
We didn't realize there were so many Disney movies that take place in France until we started counting them up! There are also scenes from France in Monsters Inc and Cars 2.
Disneyland Paris Maps
We recommend downloading the app in advance, because you'll need to use it to find a map of the park. Inside the park, there are QR codes that will also link to the map. When we visited in 2022, we only found a couple of places that offered brochure paper maps of the parks. We had to rely heavily on our phones for navigation. We also read that starting in September 2022, Disneyland Paris is phasing out the paper maps.
Where to Stay in Disneyland Paris
Disneyland Paris has 7 primary hotels on property:
Disney Newport Bay Club
Disney Hotel Cheyenne
Disney Sequoia Lodge
Disney Hotel Santa Fe
Disney Davy Crockett Ranch
We wrote an in-depth post about the best hotels near Disneyland Paris here. If you're looking for accommodations, we recommend that you check out that post!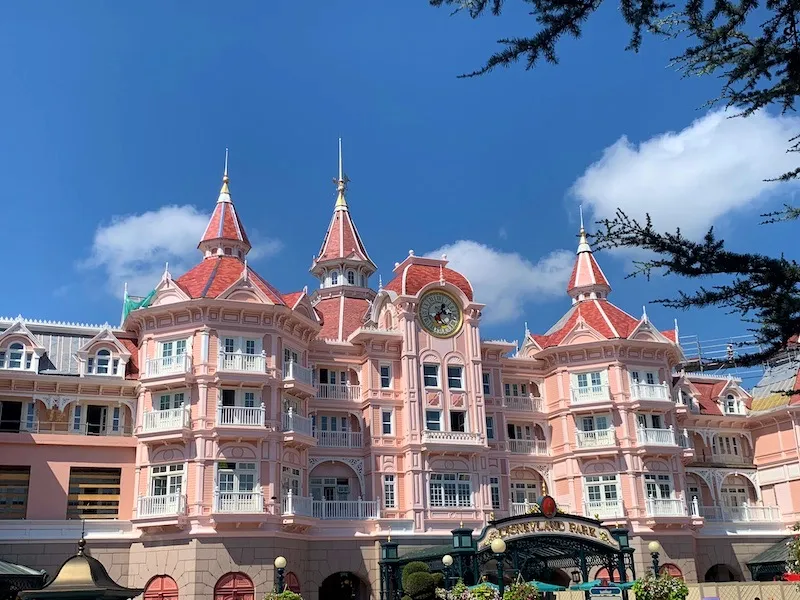 We stayed at the Disney Sequoia Lodge, which we liked quite a bit. When we originally planned this trip, we were going to stay off-property. I'm so glad we changed our minds and decided to book a Disney property.
The Disney Sequoia Lodge was just a short 10-minute walk to the park entrance. It was very convenient to walk to the park each day, and we didn't feel like it was too much trouble.
One of the things that we liked best about this hotel was the fact that there were character meet-and-greets within the hotel. Instead of spending an hour to see Mickey Mouse in the park, we were able to take photos with him right in our hotel! We also took photos with Goofy and Pluto. It appeared that there was a different character every morning.
The hotel also had a pool, which we didn't use because we spent every minute we could exploring the parks.
We enjoyed the breakfast buffet, and we loved the theming! Our room had photos of Bambi and friends on the wall.
Overall, we enjoyed our stay at Disney Sequoia Lodge and would recommend it to others.
What's Disneyland Paris like for families?
Disneyland Paris is known for being an exceptional theme park, but it's hard to appreciate just how incredible it is until you've been. Not only does it have world-class rides, such as Pirates of the Caribbean, where you ride in a boat and see hidden treasure, a pirate ship and Captain Jack Sparrow himself, but there is so much more besides.
There are shows including Mickey's Magic Show, a stage show featuring performances from many wonderful Disney films including The Lion King and Frozen, and my children particularly loved being able to explore Sleeping Beauty's Castle and the cave network on Adventure Isle.
There are tons of rides, for all ages, so even though we were there for five days we always felt like there was more to explore.
What sort of families would enjoy a holiday here?
Ultimately, Disneyland Paris is a theme park, so a trip here is more suited to families who enjoy that sort of break, rather than a nature-based, outdoorsy holiday.
Disneyland Paris is an amazing place for all. In the Disneyland Park there is the immediate wow factor of seeing the Sleeping Beauty Castle – my boys were so excited when they saw that. The extent of theming in the park is just wonderful – Frontierland, for example, is set up to transport you to the Wild West.
A Disneyland Paris trip would suit a large family group, but because there is so much to do for different ages, you'd probably want to split into smaller groups, so that everyone can go on the rides they want and get the most out of it.
If your kids like rollercoasters, they'll get more out of the park, for example Fergus loved the Big Thunder Mountain ride in Frontierland (I don't like rollercoasters, so I wimped out of that one and my husband took him each time!), but there were lots of gentle rides, too.
Don't go to Disneyland Paris if…
You're not prepared to queue. As it's a theme park there are inevitably queues, and although you can avoid these by being organised (more of that later!), you need to bear this in mind.
What age is Disneyland Paris best for?
I think it's brilliant for all ages; I think most people would find something to enjoy there. I saw families with kids of all ages – from little ones right up to older teenagers – as well as couples with no children, too.
My boys Fergus, 5, and Rafferty, 3, had a fabulous time, as did my husband and I. Fergus will hopefully be old enough to remember the trip in years to come. My boys adore the Toy Story films, so they particularly loved the Buzz Lightyear Laser Blast ride, where you sit in a carriage and shoot targets with a laser to gain points as you move around the ride – you can spin the car too, which the boys loved.
The Cars-themed Cars Quatre Roues Rallye was also a hit with Fergus – you sit in one of the cars and they spin around like a super-fast teacup ride – although it was a little too fast for Raffy to enjoy.
There were a few rides my three-year-old couldn't go on, due to his height, but that didn't spoil the trip at all. Instead, we just split up, with my husband taking Fergus, and me taking Rafferty on something else (we just made sure the queue lengths on each ride were similar, so none of us was hanging around for too long).
Is it worth the journey from the UK?
Absolutely. It's a fabulous destination in its own right, and if you only visited for a day, tagging it onto another trip in France, I feel it would be quite a rushed way of seeing it. We added on two nights in Paris at the end of the trip to celebrate my birthday. It was very easy to take the train into Paris, even with kids and luggage in tow, but we had made an effort to pack extremely lightly. In fact, it's so good, we've decided that going back to Walt Disney World in Florida is probably not worth the extra time and expense.
Is Disneyland Paris busy?
As a popular theme park, and a dream family holiday for many, Disneyland Paris does get busy, and you can expect queues for most rides.
Are there long queues at Disneyland Paris?
The queues varied considerably depending on the ride, but also the time of day. When we got to the parks early we found most rides had short queues, even popular ones like Peter Pan's Flight. Likewise when we stayed out in the park after dinner at around 7-8pm, the queues for most of the rides were under 30 minutes.
In the middle of the day, the popular rides like Big Thunder Mountain had long queues of around 50–60 minutes when we were there.
There are some rides such as It's a Small World, which seemed to consistently have short queues, so it's easy to mix up rides with long and short queues.
Here's a list of the rides in terms of queuing time:
Long queues (around an hour at peak time during our visit)
Big Thunder Mountain
Peter Pan's Flight
Meet Mickey Mouse
Buzz Lightyear Laser Blast
Ratatouille: The Adventure
Star Wars Hyperspace Mountain
Crush's Coaster
Mid-length queues (around 30 mins to an hour at peak time during our visit)
Pirates of the Caribbean
Dumbo the Flying Elephant
Star Tours: The Adventures Continue
Slinky Dog Zigzag Spin
Lancelot's Carousel
Cars Quatre Roues Rallye
Shorter queues (less than 20 mins on our visit)
It's a Small World
Blanche-Neige et les Sept Nains (Snow White ride)
Mad Hatter's Tea Cups
Casey Jr: The Circus Train
Le Pays des Contes de Fées – Storybook Land Canal Boats
Studio Tram Tour: Behind the Magic
Thunder Mesa Riverboat Landing
There are some walk-through attractions:
Alice's Curious Labyrinth
Les Mystères du Nautilus
How can I cut down queuing time?
You can queue virtually for some attractions, using the app Lineberty. We used it to meet Buzz Lightyear. We just downloaded the app, selected the option to meet Buzz, then it told us to return in about 90 minutes' time. When it flashes green you join the short queue to meet the character – it took about ten minutes for it to be our turn.
Some rides, including Big Thunder Mountain, have a FASTPASS system, so if you go to the ride you can pick up a FASTPASS to ride it later at an allotted time and skip most of the queue (these FASTPASSES may run out as the day goes on, though).
What is there to eat and drink at Disneyland Paris?
There is a great choice of restaurants in the parks, and outside in the Disney Village and the Disney hotels.
The menus were tasty, for example, in Captain Jack's I ate from the 'Bucaneer's Menu' and had quinoa salad with nut vinaigrette, oven-baked mahi mahi fish steak in tomato and coconut sauce, followed by tropical fruit soup. Fergus and Rafferty both had a tuna wrap, vegetable pasta and vanilla ice cream with chocolate sauce. I was impressed that there were healthy options on all the set menus for adults and children (not that we always chose them!).
The quick-service counter menus were more fast-food based, but even then I spotted salads as options, and the prices were fairly reasonable; for example, at the Cowboy Cookout Barbeque it costs €15.99 (around £14**) for a burger, chips or salad, drink and fruit yoghurt or ice cream, while the children's menu is €8.99 (just under £8**).
We didn't struggle to find a seat when we stopped for snacks, although we only stopped for lunch in the parks once, and there was plenty of seating.
There was a sign asking people not to eat picnics in the parks though, so there aren't any designated picnic areas, and there were plenty of kiosks selling coffees, ice-creams and treats.
How can I get the best value out of a visit to Disneyland Paris?
I think the key thing is to research in advance what you really want to do when you're there and be organised about it. If you just wander around and play it by ear on the day you might miss out or just end up in long queues.
For example, get to the park early and go straight for the rides you know are popular and will have large queues later, then move onto the ones with shorter queues later in the day.
Plus, if you want to eat in any of the table-service restaurants, then book as early as you can, particularly the themed ones, as otherwise they may not have room.
Fantasyland seemed to be the best for little ones, while some of the faster rides were fairly spread out, in both the Disneyland Park and Walt Disney Studios.